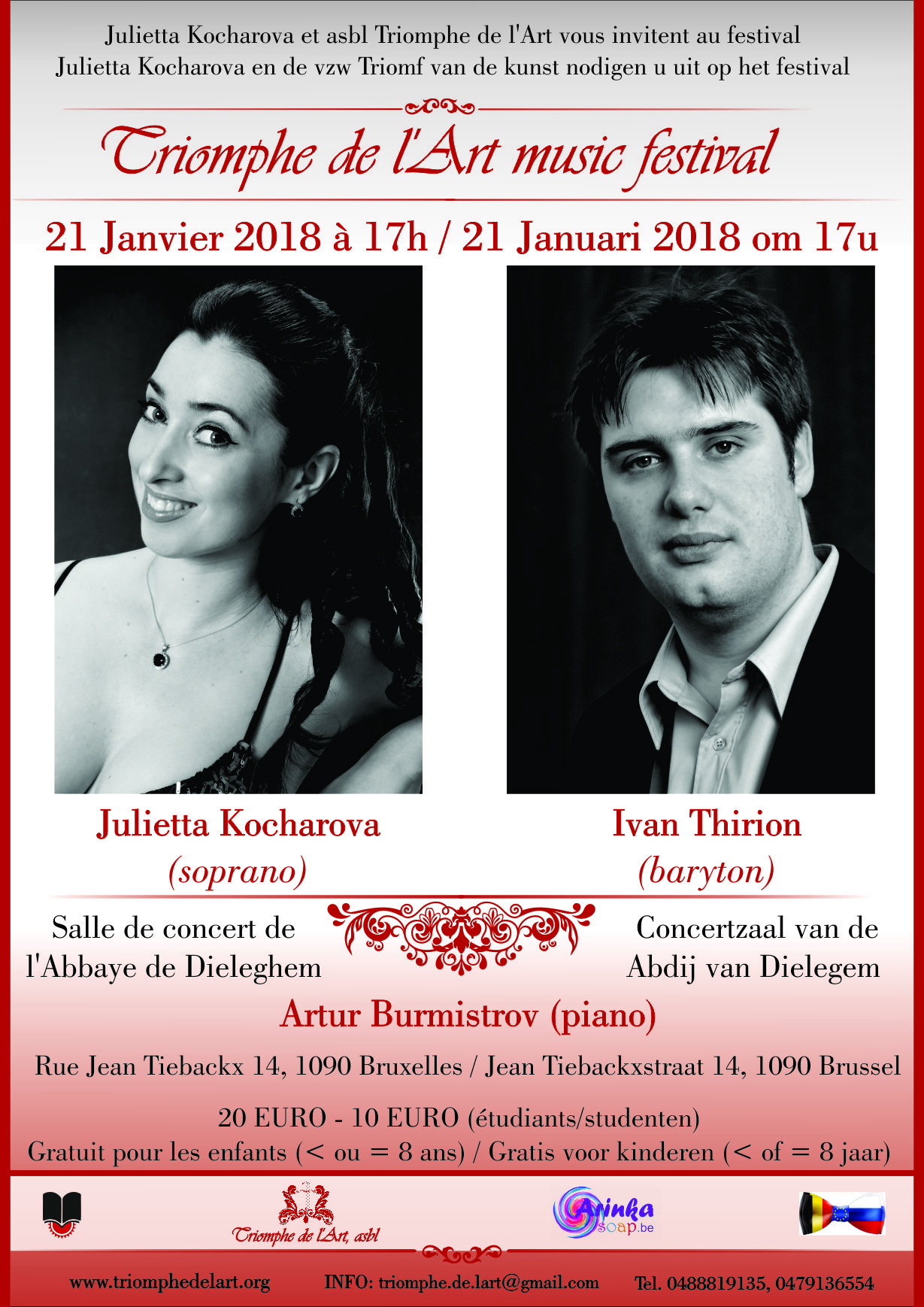 On 21 January 2018 I'm happy to invite you to the concert with the famous young Belgian baritone Ivan Thirion. Ivan is one of the most promising and talented singer of the young generation.
Despite his young age he is a soloist of many renowned operas around the world such as Opéra Royal de Wallonie in Liège, Opéra de Marseille, Opéra de Rouen, Opéra de Montpellier, Zurich opera, Opera National de Lyon, Aalto-Musiktheater in Essen, Jerusalem opera, etc…
Ivan has also been a very active concert singer and recitalist and performed in Belgium, France, Netherlands, Switzerland, Italy, Bulgaria, Georgia, United States and Russia.
He is a laureate of many International Competition. In June 2017 he was representing Belgium in the final of BBC Cardiff Singer of the World 2017 Competition, becoming the symbol for the young generation of Belgian opera singers.
The piano party will perform the virtuoso pianist and accompanist from the Liege Royal Conservatoire Artur Burmistrov.
Young and talented musicians will present you duos and solo arias from the famous opera of world classics of such composers as Mozart, Rossini, Wagner, Tchaikovsky, Rimsky-Korsakov, etc…
This concert is a part of the 4th International Music Festival Triomphe de l'Art and will take place in the concert hall with unique acoustics of l'Abbaye de Dieleghem. Concert will include 2 parts with intermission.
A small banquet will take place during the break and after the concert where you can meet and discuss with singers. Do not miss!
Where: l'Abbaye de Dieleghem
Address: Rue Jean Tiebackx 14 – 1090 Brussels, Belgium
Date and time: 21 January 2018 (Sunday) at 17:00
Prices: 15 € (presale) 20 € (at the entrence), 10 € (students), free entrance for children under 8 years old
Reservation: You can book tickets by making a bank transfer to the account BE03 5230 8069 5284. Be sure to put your last, first names and the date of the opera in the communication. You will find your name in the list at the entrance.
Attention!   Presale is available till 17th of January 2018!!! Limited number of seats. Hurry up to book tickets!
Booking and information: +32479136554, +32488819135. E-mail: info@triomphedelart.org